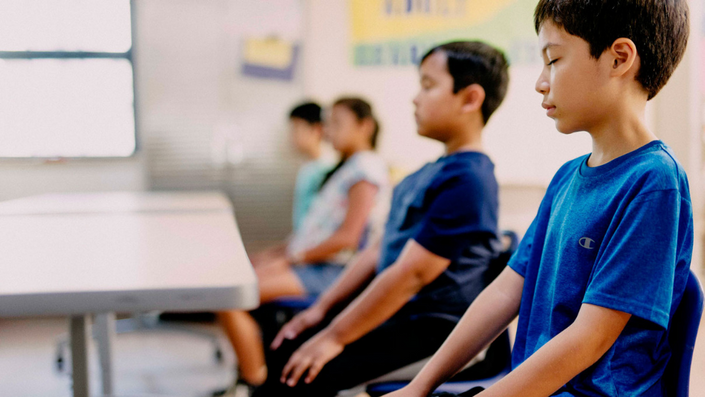 Chair Yoga and Mindful Practices for Children (6-Week Course)
Increase focus, reduce stress, and support mental health through chair yoga and mindful practices for children.
Start Now
This course will empower you with the tools and confidence to teach chair yoga and mindfulness breaks to children ages 3 to 12.
Through this six-week course, you will gain the confidence to identify challenging times during your in-person or virtual school day and to learn how to teach chair yoga breathing, postures, brain breaks, and relaxation exercises to build connection, engage your students, and shift them into a more learning-ready state of mind.
Together, we will explore how to safely and effectively adapt yoga poses to the chair and how to use the chair as a prop to stretch and strengthen the body. Over six weeks, you will have ample opportunities to embody and practice teach mindful practices and chair yoga tools to improve your and your children's physical, mental, emotional, and social wellness.
The tools shared in this course support distance learning at home, in-person modified classroom environments, and in therapeutic settings.
Upon completion of our course, you will be fully equipped with the knowledge and skills to help children improve focus, reduce stress, and regulate behavior through chair yoga and mindfulness practices.
Perfect for beginners. No prior yoga experience or extra equipment required.
How It Works
Flexible course structure to meet your schedule demands.
Our flexible online training integrates two types of course material - self-paced and instructor-led - for an engaging, interactive learning experience.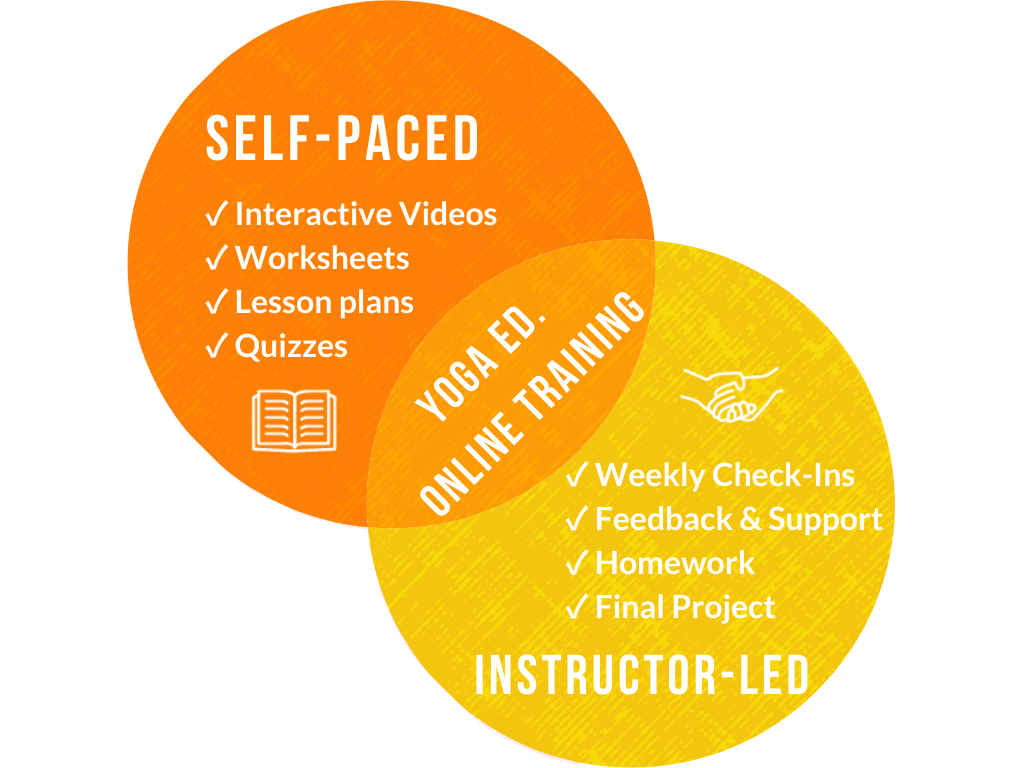 Learn at Your Own Pace
Start your self-paced coursework today.
Self-paced coursework means you can learn at your own pace and repeat lectures as often as you need to absorb the material.
By signing up early, you'll get that much more time to dig into the self-paced coursework so you can make the most of the instructor-led coursework when it begins.
Download an Information Packet

Or click here to view the syllabus to learn more.

Next Session: October 29 - December 23
Each week, we'll deliver weekly emails straight to your inbox with assignments, due dates, and live check-in access details. Instructor-led coursework lasts six weeks from October 29 to December 10.
Each week is 1-4 hours of course material.
Live weekly check-ins will be held every Thursday at 5:00pm - 6:00pm PT | 8:00pm - 9:0pm ET during our six weeks together.
All weekly check-ins are recorded so you can choose to listen on your own time.
What Past Students Have Said...
First Grade Teacher
Nevada, United States
"The Yoga Ed. training was FABULOUS. I am thrilled to have these resources and training and start trying to implement and practice."
"The yoga training was excellent. Everything was very practical and easy to use. Teachers felt they'll be able to use these tools right away. The course instructors were very warm, kind, knowledgeable, and efficient. I always love your genuine spirit. It makes people comfortable. "
Assistant Principal
Georgia, United States
Meet Your Instructors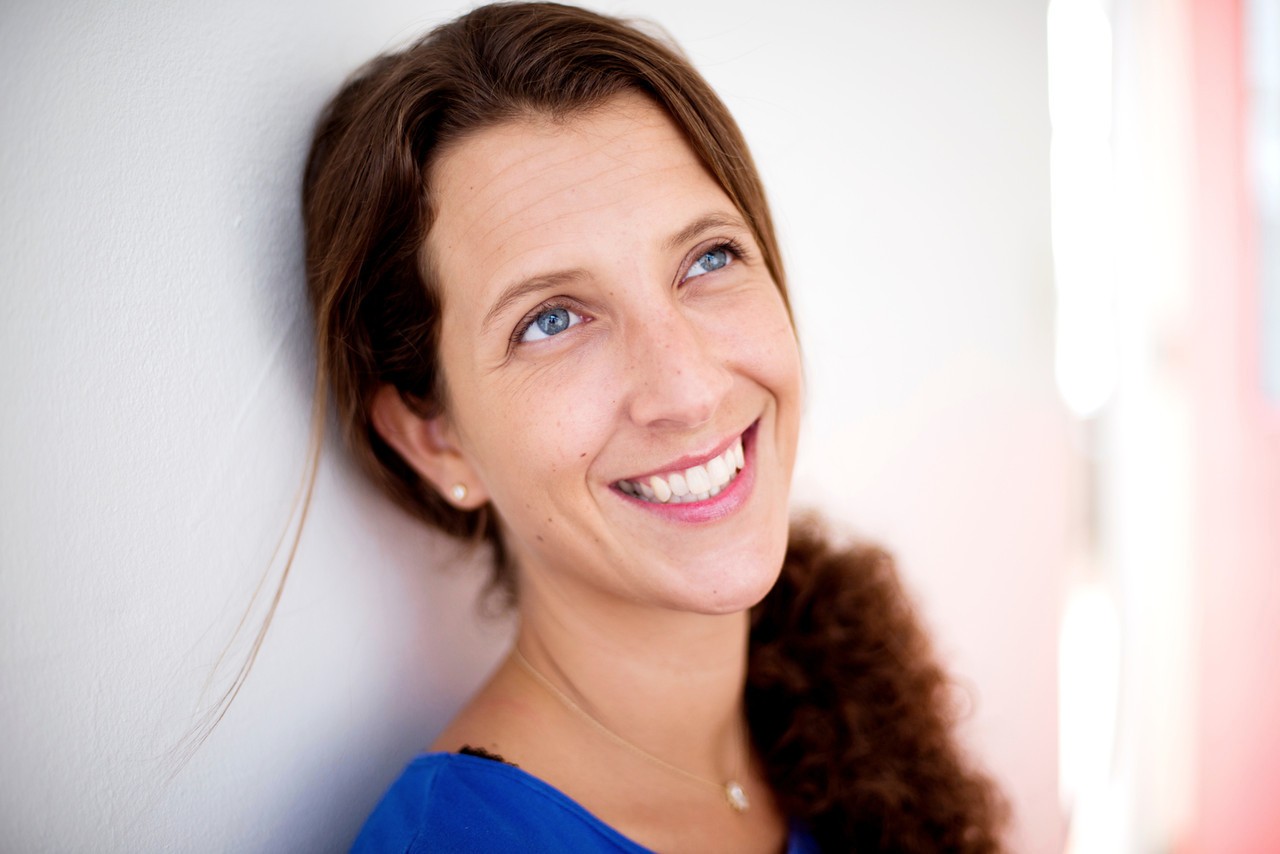 Brynne Caleda, M.Ed., E-RYT is a leader in the field of yoga education. As CEO of Yoga Ed., Brynne champions the efficacy of innovative, evidence-based yoga programs for schools to establish lifelong foundations for student's fitness, wellness, and productivity. Over the past decade, Brynne has worked closely with educators, health professionals, and parents to enrich school communities with yoga tools to more authentically and effectively teach to their students and children. A pioneer of yoga education in Hawaii, Brynne is also the founder of Stretch Your Imagination, a non-profit that creates sustainable yoga programs for Hawaii's schools. When not at home in paradise with her two year old son, you can find Brynne leading trainings and empowering educators to integrate yoga into schools across Europe, Asia, and the United States.
A strategist by trade and scientist at heart, Julia earned her degree in Human Biology with a focus on the Brain & Behavior at Brown University. While studying in Providence, Julia joined the Britton Lab to examine the effects of mindfulness-based practices on emotion and affect in teenage students. Through her research studies, Julia witnessed the power of teaching life skills from an early age and now deeply believes its potential to transform the holistic health of future generations. Julia is currently the head of operations at Yoga Ed. and strives to leverage technology to share yoga education with communities worldwide.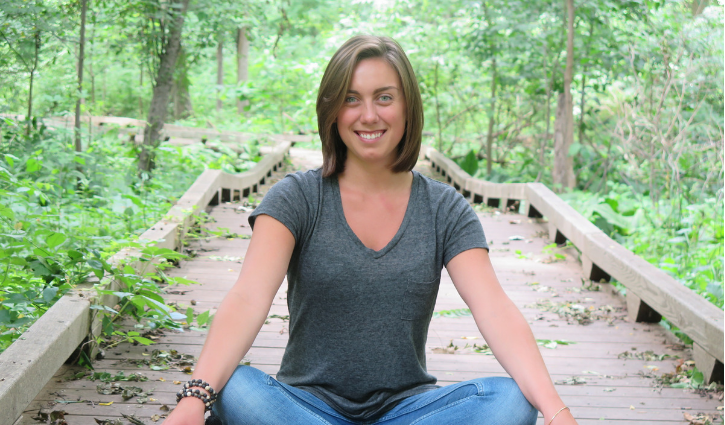 Lisa is from Flint, Michigan and graduated from Michigan State University with a Bachelor's in Hospitality Business where her passion was creating positive, memorable experiences for others. Lisa learned the practice of yoga while studying abroad for a semester in the Netherlands, and she fell in love with the art of mindful movement. She became a Certified Yoga Instructor in 2015 and teaches a variety of yoga in a local studio and throughout the community. As an avid runner, yogi and mindfulness advocate, Lisa joined the Crim Fitness Foundation in Flint as a Mindfulness Educator and a Yoga Ed. Trainer and Educator in 2017 where she weaves the art of play into her everyday life.
Frequently Asked Questions
It says it is self-paced, but there are dates. Why?
We offer weekly check-ins on Thursdays at 5:00pm - 6:00pm PT | 8:00pm - 9:0pm ET to share thoughts, answer any questions you may have, and connect you with your cohort of yoga educators.
What if I miss the weekly check-ins? Will I miss the bulk of this course?
No; one of the best parts about this course is that its designed for you to go-at-your-own-pace :) All of the calls will be recorded so that you can listen in as your schedule allows.
What do I have to do in order to get a certificate of completion?
Simply watch course videos, score a cumulative 80% or higher on all corresponding quizzes, and complete your final teaching project. All course work must be completed and submitted by two weeks after the end date of the course. Your certificate of completion will be mailed to you one month after the end date of the course.
Does this qualify for credits?
Yes, this course qualifies for the following credits:
+ 24 hours continuing education units with the Yoga Alliance
+ 2 semester hours with LMU - view eligible states
here
; MUST CHOOSE "Earn Academic Credit with LMU" option at checkout
Lastly, feel free to check with your local school or district to see if they will accept course credits.
Are group discounts available?
Yes! We offer discounts for groups of four or more. Please email us at
[email protected]
to get your discount code.
Do you accept purchase orders from schools?
Yes! Email us at
[email protected]
so that we can support you. Please note that all POs must be received at least 1 week prior to the course start date.
How long do I have access to this course?
How does lifetime access sound? After enrolling, you have unlimited access to this course for as long as you like - across any and all devices you own.
Do I need to be a teacher to take this course?
No, this course is designed for anyone who works with children (or would like to work with children). Yoga teachers, parents, nurses, counselors, mental health professionals, youth services support staff, and many other professionals have gone through our course and found the knowledge to be instrumental in supporting their ability to teach yoga to children in the unique environments they work in.
It's after the start date. Can I still register?
Yes! If you register after the official start date of the course, we will send you all course information up to that point so you can quickly get up to speed. The coursework in the first week is light, meaning you'll easily be able catch up to all material covered to date.